On Course to NCL?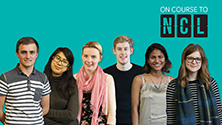 On Course to NCL offers everything you need to know as you plan your course to Newcastle University.

Watch live webchats, read top tips and find out what it's really like to study at Newcastle from our student bloggers.

Visit On Course to NCL.
International Events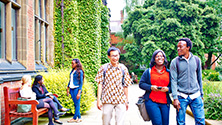 Interested in studying at Newcastle University?
We'll be at education fairs and events across the world over the next few months – why not come and meet us?
Latest News
Contactless cards fail to recognise foreign currency
A flaw in Visa's contactless credit cards means they will approve unlimited cash transactions without a PIN when the amount is requested in a foreign currency.
Capturing our coast
Newcastle University has received initial support from the Heritage Lottery Fund for a £1.7m project to help protect our coastline for future generations.